Do you maybe remember a time when you
thought
you were cool?
In case that ever happens again, I present this guy: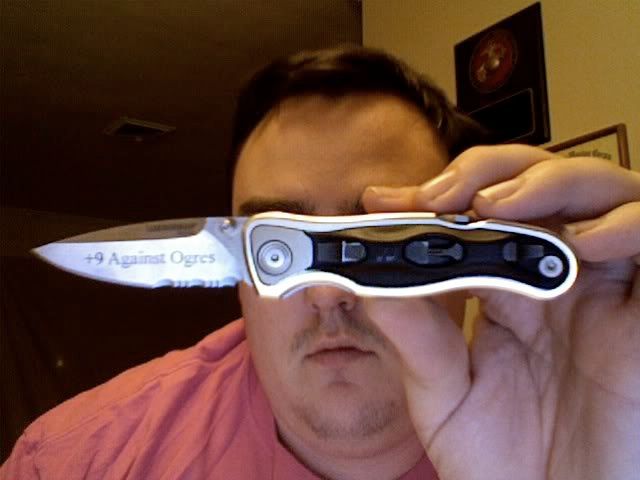 Not only does he sport lifelike facial hair and the very latest in cutting edge in T-Shirt couture, his knife clearly reads "+9 Against Ogres".
The only place that knife would be cooler than in that image would be at a tabletop, pencil-and-paper role-playing game.
Wait!
It would be even better if that game had
ogres
in it! And completely over-the-top incredible if that guy had taken Weapon Focus as his bonus feat at level one!
Wait again!
That is a utility knife! That means it qualifies as a simple weapon! He gets proficiency in that
automatically
, even if he is a spell caster (which he obviously is not)!
Figuring in a modest strength bonus given his casual hefting of the weapon displayed, I figure his total attack bonus at around +3 or (holy crap)
+12
against ogres!
I hope somewhere he has a pair of ripped jeans "+8 Against the Ladies" or I doubt he ever gets to leave the house.
You know.
If he were in to leaving the house.