As you probably know, Sunday Peter Jackson
announced
that he would not be directing
The Hobbit
from MGM/New Line.
Of course, nerds everywhere have completely (and justifiably) freaked right out.
Can
The Hobbit
even exist without Peter Jackson? Would I go see it with some hack directing?
Probably. But I could maybe resist until the DVD comes out since I read the book about twenty times. And we own the cartoon version.
Sunday night Shana and I watched Peter Jackson's best work,
Brain Dead
(
Dead Alive
).
Admit it. It has been too long since you viewed this gem from the early nineties.
While some of the dialog is a bit goofy, I blame that on the all Australian cast. The special effects are . . . not
Lord of the Rings
quality perhaps, but there are some similarities. For instance:
Sumatran Rat Monkey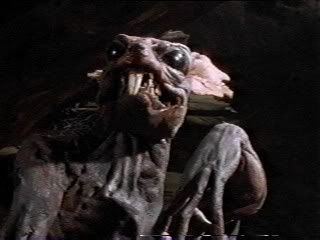 Gollum
Also, I think Faramir could have completely cleaned up against all those orcs if he had carried a lawnmower.
Zombie metabolism is a bit weird in Jackson's vision. I would assume that, being dead, zombies would have an extremely slow metabolic rate. I think that's why the zombie baby is so surprising.
However, no matter how much they eat, I suppose there is always room for brains. I think more studies need to be done into the science of zombie digestion and reproduction. Just not by me.
I've got a soft spot for zombies, but as long as I avoid spicy food and kick boxing it doesn't give me too much trouble.