The little guy in the
shower
inspired me to dig a little deeper into that graphics directory.
I'm more than a little frightened at what I turned up as the possibilities for (I guess) labels on chemical containers.
This whole exercise just serves to validate my career-long assertion that the less I know about what the users do day-to-day the better.
Let's start here: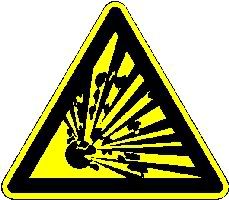 It seems that this substance, when formed into a bowling ball, will shoot off rays of light and chunks of . . . something.
You know, I'm a little concerned about what those chunks might be. This situation obviously screams for more than a two color warning label since (just from looking at it) I have no idea what type of chunks I'm supposed to be dodging. Could it be cheese? Even having suffered some quite severe nacho burns at various points in my life I'm not too concerned no matter how fast the cheese is flying at me.
Therefore, I'll have to assume that whatever those chunks are, they have to be worse than cheese. However, in an emergency, I hate to think of our users struggling with that whole cheese/worse-than-cheese problem-solving exercise. This sign should have "Not Cheese" in several languages across the bottom in the interest of saving time/lives.
This brings us to a sign so disturbing it required two versions:

Whatever is in this barrel will turn the landscape into a wintery wonderland with completely random giant fish.
Those fish are almost as big as the trees!
Obviously, this chemical is like steroids for those people who participate in fishing tournaments on TV. Hey, there are fishing tournaments on TV! Have I mentioned we cancelled cable years ago and don't miss it?
Anyway, hopefully this chemical is part of a standard urine screen for professional sport fisherpersons. We can further hope it isn't diluted into invisibility by Coors.
While it looks at first glance like the fish may be dead, I feel I need to point out that there are dots and not Xs for eyes. That little guy is just laying back, waiting for his moment to shine on whatever channel it is that airs those fishing shows. If he is lucky, he'll get an endorsement deal
out of this -- Perhaps Zima would be interested in tapping the Sport Fish Enthusiast Market.
This next one is just kind of sad:
"Using the Product in this Barrel Will Cause You to Have No Money". Poor little guy! He's used whatever this is and now has no money for the Coke machine.
The text under this label probably suggests that he affix straps to the barrel and use that as a garment.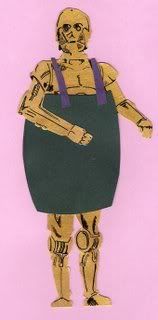 Okay. I've used my employee discount to purchase 3 55 gallon drums of anything marked with this label:

I'll do research to figure out whether we need to brush it on ourselves, completely submerge in it, or drink the stuff in a "tragic espresso machine accident", but whatever this stuff is -- Somehow it causes superheroism. And, it seems, hair loss.
I can't tell if the lucky guy is glowing with some kind of mutant power or if he has already been drafted by a Top Secret part of the government, given his spandex uniform and assigned the codename "Starburst". All I know for sure is that the terrorists should just freaking give up right now.
Edit: Today (as everyone knows) is the
8th Annual SysAdmins Day
. While I've long since given up on the traditional gift (cash), I'd hoped for a cake in the break room shaped like a USB drive which I could politely decline on the grounds that it is "too carby". Or perhaps a big cookie.
So far, no cake or cookie.
Further, no acknowledgement of any kind from Management.
Worst. SysAdmins Day. Ever.