Yesterday was our all-awesome, all the time visit to Enron Field!
Wait. It's Minute Maid Field now. That's 40% less evil because of 100% of your daily recommended allowance of vitamin C. And possibly a part of your complete breakfast.
Anyway, Shana was the only woman to show up with batting gloves. We had noticed on the way in that she had practiced enough with them to blow out the seam on the side.
The announcer was impressed. "Now taking the field. . . Whoa! She brought gloves! She's serious!"
I was impressed, too.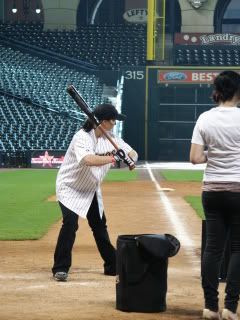 Our friend Adrian showed up to hang out with Gwynyth. We couldn't get them seats near us and Adrian was nice enough to not allow Gwynyth to hang out way up by the roof alone. They managed to sneak down in the bottom of the fourth -- because if you don't take every opportunity to sneak down to better seats the terrorists have already won. Anyway, here is Adrian at the after party catered by Denny's:
The whole situation may have been too much for Gwynyth, who appears to be sad in this picture. Like refugee kid sad. Please. For the price of a Quad Venti Breve Latte a day, this child's father can have a Quad Venti Breve Latte a day:
To conclude, here is a picture of me taken by someone with a camera phone at work on a lunch break:
Both the beaver and the rabbit in a sweater tell me to do evil things.
Edit --
By request in the comments area . . . Look how pretty and fashionable: