Last night I broke down and opened the firefly to play with it. I can always get more gold, right?
Anyway, I took some pictures. Everyone likes pictures.
Here is a shot of the actual acquisition:

Those lines above [Captured Firefly]? Just imagine those over and over and over and consider the whole project pretty much summed up.
This is Webinara and the firefly (and my trusty hunting cat companion "Spot") in lovely Thunder Bluff. I had several people in this crowded metropolis ask where Webinara had picked up the firefly, so she told them it was a random drop from the Orc newbie zone.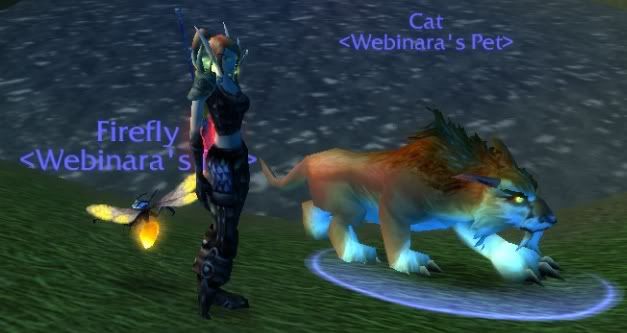 Not only is the Orc newbie zone in the completely wrong place, there may be many high-level players keeping that area clean and safe for any new people for a while to come.
After that, they went to Alterac Valley, home of the on-going, ever-bitter conflict between some goodly Orcs and some wicked nasty hairy Dwarves: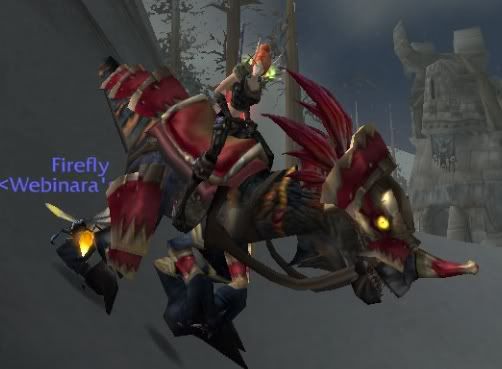 Moments after this was taken, a warrior, rogue and mage decided to try to kill Webinara (probably out of firefly envy). This did not go well for them.
It was time to relax after this, so next Webinara headed for Tanaris. Here she waves to the camera from her spot on the beach: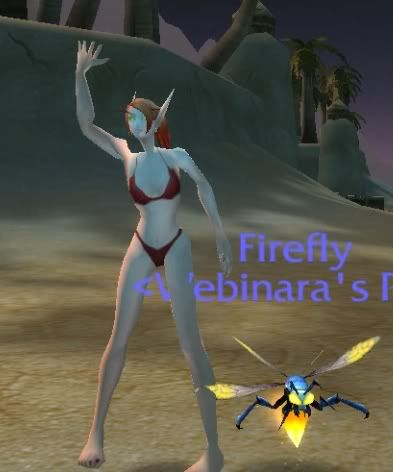 She spent a lot of time in Tanaris twenty levels or so ago, killing turtles and harvesting 120 scales (one per about 4 turtles). Turtles are a grudge-holding sort of creature, apparently. Just after this shot was taken one splashed out of the surf and ate the firefly.
In other (non-WoW) news, I got a call from a recruiter from the I.T. department at the Dollar Store. Apparently, they are doing a huge infrastructure roll-out.
I asked if I would get an employee discount and I haven't heard back.
Edit: