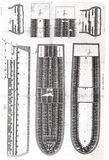 The whole "sit-in-Dad's-cubicle-all-day-while-he-works-on-incomprehensible-crap" thing didn't, so much, work out.
Further, today is Gwynyth's
last official day of summer
, so we took a vote and cashed in a vacation day.
To her credit, she was quite the trooper. It was ultimately just too much to ask.
Today we plan to have substantially more fun. Like, possibly 40% more fun, if possible.
Also, I made a pot of coffee at home. I'm much better equipped to deal with whatever comes up if I have good coffee.